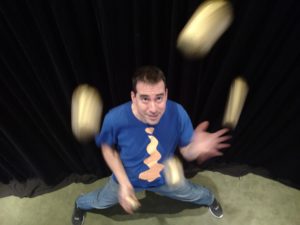 Do you need a ministry that's powerful and exciting…a ministry that really grabs your audience's attention and keeps them engaged while sharing the most important message of all time…the message of JESUS?  That's what the Crazy Tie Guy and family is all about–sharing the message of Christ around the world while amazing all ages!  WE share the Gospel so that non-believers can have their eyes and hearts opened AND we help believers grow in their faith in amazing and fun ways!  Check out our videos to get a small idea about the big fun and the BIGGER impact we can make together for the Kingdom!
Every healthy church should have times where they emphasize fun for the whole family–and the Gospel!  Many Christian entertainers are less than exciting for the adults, others are more exciting for adults than kids–we have a great balance and our message and presentation are loved by all ages.  This is a juggling ministry for everyone–we are juggling kids and families to new heights of faith!  Our message is clear and effective!  Not only do we share the Gospel, but we also challenge your church to really grow in their faith!  It's a ministry that is great for everyone!  Check out these videos to get a great idea of how we can make a BIG impact in your church and community!
Nathan is an ordained minister and world-record holding juggler.   He is a former president of the Christian Jugglers Association.  One of his VBS videos was purchased and used on a Super Bowl Commercial!  He juggled for the president during the inauguration and he has juggled in churches and ministries around the globe!  This is a ministry you don't want to miss out on!
call 931-563-2330
email: crazytieguy@gmail.com